Profile of Bodoland Territorial Council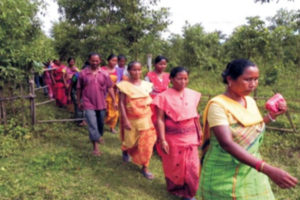 The Bodoland Territorial Council (BTC) is a 46 Member body established according to the Memorandum of Settlement (MoS) of 10th February 2003. The first election of BTC was held on 13th May 2005. Out of the 46 Members, 40 Members are elected and the rest 6 are nominated one. The BTC could not have more than 12 Executive Members; these Executive Members are responsible to look after a Specific area call "Somisthi". The areas under BTC are called Bodoland Territorial Autonomous District (BTAD). The BTC enjoys autonomy and control over Departments specified in the MoS.
The total geographical area of the erstwhile Bodoland Territorial Council is 8970 Sq. Km. Kokrajhar is the Council Secretariat Complex of BTC. The total population in BTC is around 31.51 Lakhs (SC-1.70 lakhs, ST-17.47 lakhs and general -12.48 Lakhs). Out of total 3082 villages, sericulture is practiced in 1573 villages in BTC.
District-wise population scenario of BTC:
Sl No.
Name of the District
Population

1

Kokrajhar

8,87,142

2

Chirang

4,82,162

3

Baksa

9,50,075

4

Udalguri

8,31,668

Total =

31,51,047
Sericulture in BTC (Priority Areas):

| | |
| --- | --- |
| Sector | Priority |
| Eri | I |
| Muga | II |
| Mulberry | III |